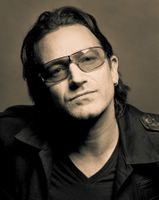 U2 frontman and rock icon Bono talks about his faith in a new book,
Bono: In Conversation with Michka Assayas
. Christianity Today has an
excerpt
of his interview with journalist Assayas, which I must say, provides the clearest picture yet of the faith behind the man. Check out Bono's views on the difference between Grace and Karma as "the thing that keeps me on my knees."
Bono:
You see, at the center of all religions is the idea of Karma. You know, what you put out comes back to you: an eye for an eye, a tooth for a tooth, or in physics—in physical laws—every action is met by an equal or an opposite one. It's clear to me that Karma is at the very heart of the universe. I'm absolutely sure of it. And yet, along comes this idea called Grace to upend all that "as you reap, so you will sow" stuff. Grace defies reason and logic. Love interrupts, if you like, the consequences of your actions, which in my case is very good news indeed, because I've done a lot of stupid stuff.
[Clearly points to the theme in his song
Grace
from the album
,
All That You Can't Leave Behind:
]
Grace, she takes the blame
She covers the shame
Removes the stain
It could be her name

Grace, it's a name for a girl
It's also a thought that changed the world

And when she walks on the street
You can hear the strings
Grace finds goodness in everything

Grace, she's got the walk
Not on a ramp or on chalk
She's got the time to talk
She travels outside of karma, karma
She travels outside of karma

When she goes to work
You can hear the strings
Grace finds beauty in everything

Grace, she carries a world on her hips
No champagne flute for her lips
No twirls or skips between her fingertips
She carries a pearl in perfect condition
What once was hurt, what once was friction
What left a mark no longer stains
Because Grace makes beauty out of ugly things

Grace finds beauty in everything
Grace finds goodness in everything
When asked if the idea of Jesus as Son of God seemed rather farfetched, Bono replies:
Bono

:
No, it's not farfetched to me. Look, the secular response to the Christ story always goes like this: he was a great prophet, obviously a very interesting guy, had a lot to say along the lines of other great prophets, be they Elijah, Muhammad, Buddha, or Confucius. But actually Christ doesn't allow you that. He doesn't let you off that hook. Christ says:
No. I'm not saying I'm a teacher, don't call me teacher. I'm not saying I'm a prophet. I'm saying: "I'm the Messiah." I'm saying: "I am God incarnate." And people say: No, no, please, just be a prophet. A prophet, we can take. You're a bit eccentric. We've had John the Baptist eating locusts and wild honey, we can handle that. But don't mention the "M" word! Because, you know, we're gonna have to crucify you. And he goes: No, no. I know you're expecting me to come back with an army, and set you free from these creeps, but actually I am the Messiah.
At this point, everyone starts staring at their shoes, and says:
Oh, my God, he's gonna keep saying this.
So what you're left with is: either Christ was who He said He was—the Messiah—or a complete nutcase. I mean, we're talking nutcase on the level of Charles Manson. This man was like some of the people we've been talking about earlier. This man was strapping himself to a bomb, and had "King of the Jews" on his head, and, as they were putting him up on the Cross, was going:
OK, martyrdom, here we go. Bring on the pain! I can take it.
I'm not joking here. The idea that the entire course of civilization for over half of the globe could have its fate changed and turned upside-down by a nutcase, for me,
that's
farfetched …